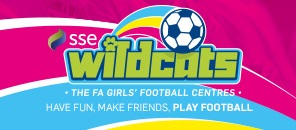 SSE Wildcats Girls' Football Centres provide girls aged 5-11 with regular opportunities to play football. The initiative offers organised sessions in a fun and engaging environment created exclusively for girls.
More than 200 clubs were piloted across England in 2017 and the scheme is now being extended to more than 900 centres with 26,000 participants across the country.
Oadby & Wigston Girls is delighted to be one of the new centres.  Sessions will take place on Thursdays from 6:30-7:30.
Anyone interested please contact Lesley Batchelor on Lesley@the-batchelors.co.uk or Nathan Worrall on nworrall5@sky.com
To find out more http://www.thefa.com/womens-girls-football/get-involved/sse-wildcats-girls-football-clubs